Save the Date for Oktoberfest 2017!
Plan to celebrate Oktoberfest on
Friday, September 29, and Saturday, September 30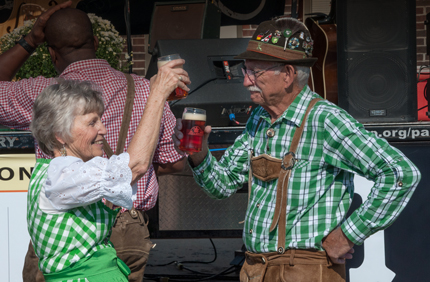 Friday, September 29, 4:30–9pm: Join us for an evening of German food and music celebrating the heritage of the Southside. Festivities will take place at Central United Church of Christ with a German-style meal, and outdoors with a wine/biergarten and music by the Loehnig Family Band. Dinner will be served 4:30–7pm, music will be 5:30pm through 9pm.
Saturday, September 30, 10am–6pm: The Oktoberfest street festival with a dachshund derby and costume contest, historic car show, music, kids activities, wine/biergarten, food, vendors, and a full day of fun!
Oktoberfest Mainstage schedule:
10am to 1pm, Low Rent District
2pm to 5pm, Burnin' Down the House
Become a member for 2017!
Click here to download a membership form you can fill out and mail to OMA with your check. A Paypal option is also available on the Gift Shop page.