Gift Shop
Please contact the Old Munichburg Association to make Giftshop purchases at:
Old Munichburg Association
P.O. Box 105806
Jefferson City, MO 65110
OR, message us on Facebook.
---

Capitol Brewery T-shirts
A classic design depicting the Southside's historic Capitol Brewery, which stood on the site of the current Prairie Farms warehouse and parking lot on Dunklin.
$20 each, contact Old Munichburg Association for available sizes.
$4 shipping and handling (please include $2.50 s&h for each additional shirt sent to the same address).

---
Old Munichburg Association memberships are a great way to show your support for the Southside. Become a member or consider giving a membership as a gift to someone in Jefferson City or out of town.
Click here to download a membership form that you can fill out and mail to OMA with your check.
---
Brick and paver orders for the Old Munichburg Corner project are still being taken so you still have the opportunity to recognize or memorialize your family, business, or others. You can also purchase your commemorative brick or paver to support the redevelopment of the Southside.
Click here for a paver application.
For more information, contact:
Old Munichburg Association
P.O. Box 105806
Jefferson City, MO 65110
---
The Old Munichburg Association has for sale a number of books that are of interest to history buffs and those with an interest or connection to Jefferson City and its historic German Southside. Items available are:
Buddy's Stories: Growing Up in Jefferson City in the 1940s
by Walter A. Schroeder
Generous with details, the geographer and historian Walter A. Schroeder—nicknamed "Buddy" in his youth—shares his personal memories of growing up in Jefferson City, Missouri. His descriptions will resonate with people who remember those simpler times, and they will cause others to reflect on what we lost as the years went by.

These 42 brief essays cover an array of topics about Jefferson City places, everyday life, the effects of World War II, and expressions of patriotism. How did families make ends meet? How did kids participate in the war effort? What was it like to have bread, eggs, milk, and coal delivered, to make sauerkraut in the basement, to be fitted for shoes with commercial X-ray machines? What did kids do for fun? How did the old Missouri River Bridge rotate, and what was it like to go to the dime store?

Engagingly written, enhanced by the judgment of a professional historian, and illustrated with 70 photos, maps, and scrapbook mementos, Buddy's Stories is a vibrant perspective on Jefferson City history . . . and a fond commemoration of the way things used to be.
200 pages, paperback, 70 maps, photos, and illustrations, 6 x 9"
$15 (available at Downtown Book & Toy, ECCO Lounge, and Schaefer House). Visit us on Facebook for info on upcoming booksignings and speaking engagements by Walter Schroeder.
---
Southside Sketches: Essays on Jefferson City's Old Munichburg
by Walter A. Schroeder
During his tenure as secretary of the Old Munichburg Association, Walter Schroeder "spiced up" his monthly mailings of the group's minutes with brief essays on the district's history. What began as a side project became a collection of essays illuminating the Southside's history of organizations and people, and of its very environment. At turns humorous, nostalgic, poignant, questioning—but always keenly insightful—these "sketches" draw upon personal memories as well as archival research.
Schroeder shares detailed recollections about life before air-conditioning, shopping at mom-and-pop groceries, using sales-tax tokens, and many other memories of his youth. Other stories came from interviews with his mother and other old-time Southside residents, who spoke of visits by gypsies, the time a steamboat managed to dock some six blocks south of the Missouri River, and explorations of the area's legendary tunnels and caves. Schroeder gleaned several other interesting tales from archival sources, including the German-language newspapers favored by the Southside immigrants—yet read by few today.
200 pages, paperback, 6 x 9"
$12 (available at Downtown Book & Toy, ECCO Lounge, and Schaefer House). Quantities are VERY limited so get your copy before they're gone!
---
Breweries and Saloons in Jefferson City, Missouri
by Walter A. Schroeder
Got Gemütlichkeit? The German immigrants to Jefferson City certainly did, and from the time they started arriving in the area in the 1840s to the present day, good-natured beer drinking among friends has fostered social connections, spurred economic growth, fed the city's hospitality industry, and nourished a sense of ethnic identity.
Historian, geographer, and native Southsider Walter Schroeder grew up in the shadow of Capitol Brewery, a grandson of German immigrants and an enthusiastic supporter of Munichburg's history and future. In this book, he relates what he has learned about the city's breweries, saloons, beer gardens, and other beer-related history.
From the earliest years of Jefferson City, its ethnic Germans have run breweries, gathered in beer gardens, and established saloons, taprooms, and taverns. In these pages you will learn about the following and much more:
The George Wagner Brewery, which started in the Southside of Jefferson City in 1870, produced an impressive seventy barrels a day, and was one of the first companies to freeze its own ice.
The Capitol Brewery, which offered authentic Bavarian beer and dominated the region's beer sales from the 1890s through the end of World War II, grew to become the city's Coca-Cola bottler.
The Franz beer garden in the 1870s occupied the hilltop that is today the home of St. Mary's Health Center. It was a grassy, breezy gathering place for relaxing, dancing, and singing, offering a tremendous view of the young town—plus sausage, cheese, crackers, and freshly made Franz beer.
The ECCO Lounge, the city's longest-running taproom and restaurant, has roots going back to 1860, when it offered food, libation, and lodging to out-of-town farmers who had carted their goods for sale in the capital city.
Although "having a beer with one's friends" is certainly no longer a way to profile someone as "German" in Missouri's capital city, everyone with an interest in the art and history of brewing, the many stories of the city, or German heritage will enjoy this celebration of the city's German immigrants, their ethnic beverage, and its magical capacity for bringing people together.
50 pages, paperback, 38 illustrations, 6 x 9"
$8 (available at the ECCO Lounge and on eBay)
---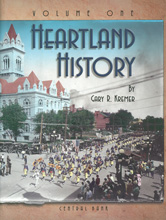 Heartland History, vols. I, II, III
by Gary Kremer
This three volume set, written by preeminent historian (and also executive director of the State Historical Society of Missouri and director of the Western Historical Manuscript Collection), is a collection of essays on local Jefferson City history that first appeared in his popular "History Matters" column in the Jefferson City News Tribune.
Each volume focuses on individual topics—local people, places, and events—that helped shape the character of Jefferson City. Through these essays, Kremer contributes to our knowledge of local history while also painting vivid portraits of times gone by.
Scores of historic photos illustrate the three volumes, beautifully complementing the skillful writing of this esteemed historian. The volumes make a great contribution to our knowledge of Jefferson City's past and will be welcomed by all who are interested in the history of central Missouri and the capitol city.
Volume I, hardback with dust jacket, 168 pp., 8 1/2 x 11"
$25, plus $5 shipping and handling (please include $3 s&h for each additional book sent to the same address).
Volume II, hardback with dust jacket, 160 pp., 8 1/2 x 11"
$25, plus $5 shipping and handling (please include $3 s&h for each additional book sent to the same address).

Volume III, hardback with dust jacket, 154 pp., 8 1/2 x 11"
$25, plus $5 shipping and handling (please include $3 s&h for each additional book sent to the same address).
Purchase all three Heartland History volumes together for the discounted price of $60, plus $11 shipping and handling (please include $11 s&h for each additional set sent to the same address).