Projects
The Old Munichburg Association has been busy since we first rolled up our sleeves in 2000!

Our projects are aimed at:
» Securing public recognition of our neighborhood's unique identity as a historic Germantown district.
» Protecting, rehabilitating, and improving our buildings and infrastructure.
» Improving connections among residents and with the city in general.
» Celebrating our history and heritage as an important part of Jefferson City's German-immigrant community.

---
The Dunklin Street Murals
The Dunklin Street murals are a series of panels commissioned by Old Munichburg Association, and created by local artist Jim Dyke, to commemorate the rich history of the Munichburg district. The mural panels are located in the storefront windows at 117 East Dunklin. Stop by when you're in the area to enjoy this new addition to the beautification of Munichburg!
---
The Munichburg Corner
The Munichburg Corner is on the northeast corner of Dunklin and Jefferson. It's a gateway park memorializing our past while asserting our neighborhood's bright future. The project was completed in 2010. Stone for the wall was salvaged from the former Nilges Grocery Store, which stood at the southeast corner of Jefferson and Ashley.
The project was funded, in part, by selling commemorative bricks and pavers. We are still adding new pavers! Click here for an application form.
---
Community Improvement District (CID)
The Old Munichburg Association and the City Council first began discussions in 2005 to create a Community Improvement District (CID). A CID is a way for a group of neighbors to agree to a voluntary extra tax that enables the city to accelerate infrastructure improvements in that area.
The Munichburg CID has expedited replacement of crumbling sidewalks and gutters on streets where property owners have agreed to the extra tax.
Having a single, city-negotiated contractor do the work at one time helps ensure a professional job that meets city code as well as an attractive, uniform look throughout the area.
---
Oktoberfest
We sponsor the annual Oktoberfest celebration that is recognized as an extremely popular citywide festival.
The entire city benefits from this festival, and many local businesses and nonprofit groups gain financially by their participation in Oktoberfest. Oktoberfest is the core fundraising event for the Old Munichburg Association.
Jefferson City's Oktoberfest is always the last Saturday in September, and is held in the area centered around Dunklin and Washington streets.
---
Neighborhood Watch
Discouraging crime and improving connections among residents is another goal of the Old Munichburg Association, so it was natural for us to work with the Jefferson City Police Department in 2005 to initiate a Neighborhood Watch program in our area.
---
National Register of Historic Places
In 2002, our group was successful in having more than 20 buildings, and a historic district centering on Broadway and Dunklin streets, placed on the National Historic Register of Historic Places in 2002.
This designation asserts, beyond the shadow of a doubt, our district's historic importance on a national level, and it opens the possibility for property owners to take advantage of state and federal tax credits for restoration of their historic buildings.
Also, building in part on that initial establishment of the area's historic value, more properties in the district have been added since 2002, including the 100 block of E. Dunklin, which was renovated in 2009–2010 by local businessmen Larry Kolb and Steve Rollins.
---
Beautification
In 2009, our group purchased decorative sign-post covers and had them installed on street signs throughout the district.
Almost since our group's founding, we have installed and maintained attractive neighborhood banners identifying our historic district.
Old Munichburg Association members also plant and maintain the Munichburg Corner and other plantings in the district, and are currently involved in the beautification of the 100 block of W. Dunklin.
---
Münchberg, Bavaria: Our Partner City
In 2004, members of the Old Munichburg Association (OMA) collaborated with city government to initiate and maintain a partner-city relationship with Münchberg, Bavaria, from which many Munichburg (and Jefferson City) families immigrated.
Since then, numerous visits of citizens to and from Münchberg have taken place, including organized visits of Jefferson Citians to Münchberg. Our cordial relationship with our partner city continues.
In September 2006, the OMA cosponsored, with the City of Jefferson, a German-style Volksmarch, to celebrate our renewed relationship with Münchberg, Bavaria.
A plaque given to Jefferson City from the citizens of Münchberg has been placed at the Munichburg Corner, at the intersection of Jefferson and Dunklin.
---
Networking with Other Local Groups
We are proud to support and work in concert with the city and other local groups and individuals interested in historic preservation and "old town" redevelopment.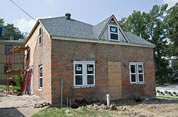 We work with the city to promote code enforcement, improve landlord responsibility, and provide incentives for home improvements; this work is ongoing.
We partnered with other groups to sponsor a Habitat for Humanity home (pictured at right during its renovation) that involved a complete rehab of one of our neighborhood's historic residences. This project was conceived in 2006 and completed in 2010.
---
Kristkindlfest
In 2001 we initiated the annual district-wide Kristkindlfest celebration, with participation both from local businesses and from the Central United Church of Christ. The OMA also provided history displays to be used during Kristkindlfest and Oktoberfest. While Kristkindlfest is no longer held, we hope to replace it in the future with another pre-Christmas celebration.
---
History Projects
We have ongoing history projects focusing on the longtime residents of Munichburg. These involve interviewing, recording, and transcribing oral histories, and the digitizing and archiving of historic photos.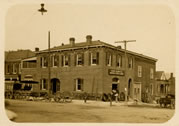 If you have photos you would like to donate to the Old Munichburg Association, or would consider briefly lending to OMA to create high-quality scans for our archives, please contact Walter Schroeder, OMA past president. Your participation is appreciated in helping to preserve Old Munichburg/South Side history!
Photo (right) from the OMA archives, courtesy Vincent L. Schwartze collection.